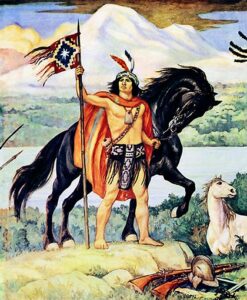 Lautaro's Biography
Lautaro (original name Leftraru) was a Mapuche military chief who confronted the Spanish troops of Pedro de Valdivia who tried to occupy and colonize Chile. He was the protagonist of the Arauco War that lasted for many years. It is estimated that he was born around 1534 in some region of central Chile, son of a lonko named Curiñancu.
When he was 11 years old he was captured by the Spaniards and assigned to the service in the stables of Pedro de Valdivia and as an auxiliary in expeditions and battles. Thanks to this he learned Spanish combat tactics, the use of weapons and how to ride a horse. He stayed with the Spaniards for about 6 years until he escaped in 1552 and went to join the Mapuche leader Colo-Colo. After gaining the confidence of his compatriots, he went on to teach them how to ride horses and tactics to defeat the Spanish.
Lautaro surprised the Spaniards on many occasions by applying innovative strategies and tactics and even put the Spanish permanence in Chile at serious risk. He conquered and destroyed Concepción and attacked numerous Spanish towns, although they managed to recover and survive. Finally, in 1557, with Valdivia already gone, a Spanish army commanded by Captain Francisco de Villagra encountered Lautaro's men and the battle of Mataquito took place, in which Lautaro was killed in his own tent.
Videos
Graphics
Works