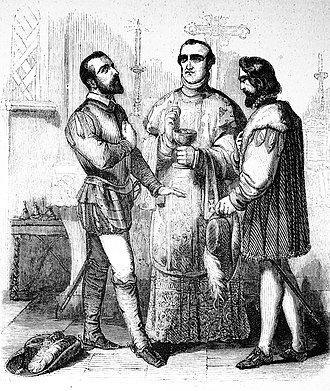 .
Biography of Hernando de Luque
Hernando de Luque was a Spanish priest born in Morón de la Frontera (Seville-Spain) in the last decades of the 15th century who worked mainly in Panama during the rule of Pedrarias Dávila and who partnered with Pizarro and Almagro for the conquest of Peru.
In 1514 he left for the Indies aboard the expedition of Pedrarias Dávila whose destination was the recently founded city of Santa María de la Antigua del Darién, capital of Castilla del Oro, the new governorate created in Panama. There he carried out his work as a priest imparting education and baptizing the natives. Pedrarias gave her a cattle ranch that she exploited and with which she obtained enough income, this led her to invest in the new expeditions that were being organized along the coast of the South Sea in search of something called Peru and that promised to be highly profitable.
For this reason, in 1524, he joined forces with Francisco Pizarro and Diego de Almagro, two captains with experience in the New World who agreed to organize a first expedition in search of Peru. Others had already sailed south without much success but with hopeful news. The agreement was that Pizarro would be in charge of executing the expedition and commanding it, Almagro would organize everything necessary from Panama and Luque would provide 20,000 pesos of gold to cover all the necessary expenses and would also manage the expedition's relationship with Governor Pedrarias so that he would not commit arbitrary acts. However, later investigations show that Luque was nothing more than a front man for the real investor: Gaspar de Espinosa, a man of great power in Panama, where he amassed a great fortune.
The first expedition was a failure, but the second did manage to find more advanced civilizations sailing south that promised good business. However, Hernando de Luque would not be able to meet them because he died in Panama in 1532 before the Spanish army took the Inca empire.