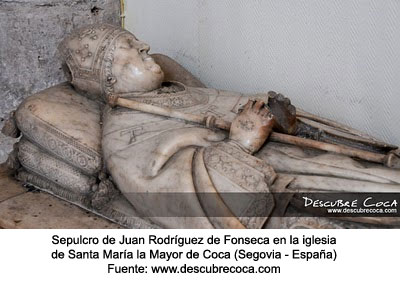 Born: 1451 in Toro – Zamora (Spain)
Death: 1524 in Burgos (Spain)
Burial: Santa Marí­a la Mayor Church in Coca – Segovia (Spain)
Charges:
– Politics: Diplomat and advisor of the Catholic Monarchs, from 1493 onwards, he will manage the entire colonization process of the New World.
– Religion: royal chaplain, archdeacon, canon and dean of the cathedral of Seville, bishop of Badajoz, Cordoba, Palencia and Burgos. Archbishop of Rossano in Naples.
Most relevant facts:
– A person of absolute trust of the Catholic Monarchs, he managed his politics of alliances through marriages.
– Ambassador of Castile in Flandes.
– He organized the second expedition to the Hispaniola island, the largest fleet sent at that time: 17 ships, 1500 people, all the equipment, supplies, etc., in just 4 months.
Other data of interest:
– He entered into conflict with Christopher Columbus because of the latter's handling of Indian affairs. Fonseca was against the Columbian monopoly of the same, defending the protagonism of Castile and the Catholic Monarchs.
– Derived from the removal of this monopoly, he actively participated in the creation of the Casa de Contratación and in the embryo of the Consejo de Indias.