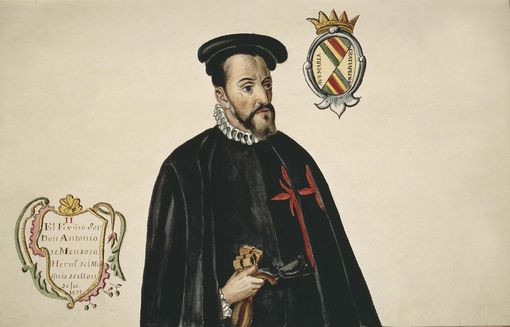 Biography of the viceroy Antonio de Mendoza
Location of birth:
Antonio de Mendoza was born on September 12,1490 in Mondéjar (Guadalajara – Spain)
Location of death:
Antonio de Mendoza died on July 21,1552 in Lima (Virreinato del Perú).
Positions held:
– Commander of the Order of Santiago.
– Councillor of the town hall and treasurer of the Mint of Granada.
– Ambassador of Spain in Hungary.
– First Viceroy, Governor and Captain General of New Spain in 1535 and President of the Royal Audience of Mexico.
– Second viceroy of Peru in 1549.
Most relevant facts starring Viceroy Antonio de Mendoza:
– When he was appointed viceroy of New Spain, he had to face Hernán Cortés to cut off his power.
– He submitted to trial of residence to the governor of Nueva Galicia Nuño Beltrán de Guzmán and was condemned for corruption and mistreatment of the natives for what he was sent prisoner to Castilla in 1538.
– He had to face an indigenous rebellion in the Mixton War in 1542 against the Chichimeca and Caxcán Indians.
– He founded the Mint of Mexico City in 1535.
– Established the first printing press in America in 1539. The first book printed in it was the bora of Bishop Juan de Zumárraga "Breve y compendiosa Doctrina Christiana en lengua mexicana y castellana".
– He promoted several exploration expeditions, such as that of Hernán Cortés to Baja California, Fray Marcos de Niza and Francisco Vázquez de Coronado in the southeastern United States.
– He founded the Santa Cruz de Tlatelcolo school for the Indian nobility, the San Juan de Letrán school for Indians and mestizos and the Concepción school for women.
– He applied the New Indian Laws regarding the treatment of natives.
– He founded the city of Valladolid, present-day Morelia and other towns in the same area.
– Bro Bartolomé de las Casas tried to excommunicate him for supporting the Commenders during the discussions for the application of the New Indian Laws, but the Council of the Indies declared him innocent.
– In 1551 he arrived in Peru to take office as the second viceroy of Peru, where he organized the administration and public services.
– He made an extensive tour of the viceroyalty to find out about the state of exploitation of resources and the treatment given to the natives.
– He initiated the procedures for the creation of both the University of Mexico and San Marcos de Lima.