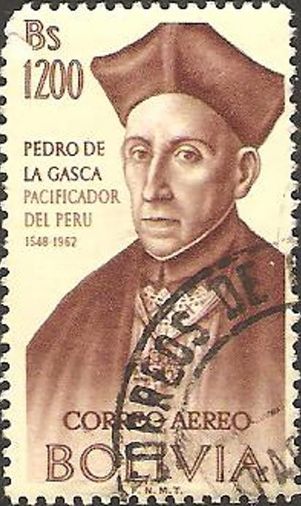 Biography of Pedro de la Gasca
Location of birth:
Pedro de la Gasca was born in August 1493 in Navarregadilla (Ávila – Spain)
Location of death:
Pedro de la Gasca died on November 13,1567 in Sigüenza (Guadalajara – Spain).
Positions held:
– Mayor of Panama and Name of God (1546).
– Governor of the Viceroyalty of Peru (1548).
– Bishop of Palencia (1550) and Sigüenza (1561).
– Gentleman of the Order of Santiago.
– Councillor of the Tribunal of the Holy Office in 1540.
– Rector of the University of Salamanca in 1528 and of the Colegio Mayor de San Bartolomé in 1531.
Most relevant facts starring Pedro de la Gasca:
– He arrived in the Indies on May 26,1546 after the news of the uprising of Gonzalo Pizarro in Peru against Viceroy Blasco Núñez de Vela.
– In Panama, he obtained numerous supports to confront Pizarro begging for amnesty for slate-makers and the repeal of the most annoying laws of the New Indian Laws for the messengers.
– They joined him captains of the importance of Sebastian de Benalcázar, Pedro de Valdivia, Pedro Ramírez, etc..
– On April 9,1548, the battle of Jaquijahuana took place near Cuzco, where there were hardly any confrontations because the majority of slate soldiers were transferred to the royal side. The rebels were reduced and their captains executed, including Gonzalo Pizarro.
– After the rebellion, he proceeded to reorganize the newly created viceroyalty administratively: he reformed the public treasury to make it more efficient, made a general appraisal of the commissions to give them a real value, put the judicial administration to work, issued rules to soften the tax pressure on the natives and also improved the labor aspect, etc.
– Once normality was restored in the viceroyalty, he returned to Spain in 1550 where he was named bishop of Palencia (1550) and later to Sigüenza (1561) where he died.