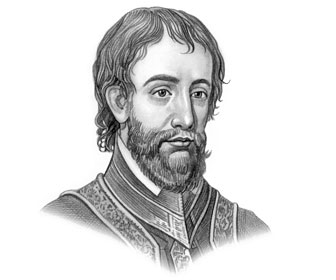 Biography of Hernando de Soto
Resumen
Hernando de Soto born in Jerez de los Caballeros o Barcarrota (Badajoz) in 1500. He was a Spanish adelantado, conquistador, politician and military man who participated in numerous events related to the conquest of America. At a very young age, he left with Pedrarias Dávila in 1514 for Tierra Firme, the first continental lands explored by the Spaniards. He participated in the conquests of Nicaragua with Francisco Hernández de Córdoba and later in the conquest of Peru with Francisco Pizarro. But he wanted to be a protagonist and in 1537 he was commissioned an expedition to find the passage to the South Sea but sailing through the north of America and for that reason he was appointed governor of Florida and governor of Cuba. He prepared 10 ships and 600 men and set out to explore North American territory, confident that he would find great civilizations and great riches, but he only found poor Indians and small tribes. After several years of hard journey he lost his life when he contracted malaria in the vicinity of the Mississippi River.

Complete biography
Family
Son of a noble family of a well known plot of land in Burgos, his father was Francisco Méndez de Soto and his mother Leonor Arias Tinoco of Portuguese lineage.
Panamá
In 1514 he traveled with Governor Pedrarias Dávila to Castilla del Oro. There he was a page of Pedrarias' family and was a first-rate witness of Pedrarias' government and his confrontations with Vasco Núñez de Balboa.
In Panama he participated with great success in numerous entries and rides that were carried out to obtain booty from the Indians, in these acts he made contact with Gaspar de Espinosa, mayor, and with Francisco Pizarro, learning the tactics and military strategies to defeat the Indians or diplomatic strategies to reach agreements with them. Little by little he gained the recognition of his superiors..
Nicaragua
Pedrarias sent Francisco Hernandez de Cordoba in 1523 to the lands of Nicaragua and with him went Soto, who had an important role in the discord between different Spanish expeditions for the same places, such as Gil Gonzalez Davila and Cristobal de Olid. He participated in the foundation of Granada and Nueva León where he was appointed mayor. Thanks to these merits, he obtained plots of land and Indian divisions with which he increased his patrimony and prestige..
Perú
In 1531 Soto joined the Peruvian enterprise together with Francisco Pizarro, Diego de Almagro and Hernando de Luque, providing the resources to arm 100 men and 50 horses that would serve as Pizarro's first reinforcement on the island of Puná, just before entering the Inca empire.
In Túmbes Soto defeated the rebellious natives and handed Pizarro over to his chief. Later Pizarro commissioned him to explore the territory ahead and marched with 40 horsemen through the Caxas mountain range, in October 1532, and on his return he was the one who brought the first news of a very rich kingdom and a chief named Atahualpa, who was in a city called Cajamarca. For there that left all the host of Pizarro and when they arrived to the vicinity he sent Soto to meet with the Inca, before him Soto made an exhibition of horseman with his horse to impress them.
In 1534 the Spaniards arrived in Cuzco where they defeated Manco Inca, who had rebelled, and for his merits Pizarro named him corregidor of Cuzco and lieutenant governor, but he did not put down roots in Peru. After trying to enlist in the expedition of Diego de Almagro to Chile, something that he rejected, he decided to return to Spain with the idea of obtaining the royal permission for some new expedition that would give him greater wealth and power, and he thought of the northern passage, that is to say, to look for a route that communicated the Atlantic Ocean with the South Sea but to the north of Cuba and Florida. Something that had already been attempted in 1525 by Esteban Gómez and in 1526 by Lucas Vázquez de Ayllón, both of which were complete failures.
In 1537 he was named Adelantado of Florida and governor of the island of Cuba and was granted capitulation for the expedition to Florida. He gathered 10 ships and on April 6, 1538 they departed from Sanlúcar (Cádiz) arriving on June 7 at the port of Santiago de Cuba.
Cuba and Florida
As governor of Cuba he dedicated time to solve different problems that existed in the island and to finish organizing the expedition to Florida. On May 18, 1539, 9 ships with 620 men departed from Havana and easily reached Tampa Bay, which they called Bahia Honda or Bahia del Espiritu Santo. From here the route was by land. They camped near the Indian village of Ucita from where different expeditions would be sent to get to know the terrain well. In one of these expeditions they met Juan Ortiz, a Spaniard from the Narvaez expedition who had been there for 12 years, so he knew the place, its people and languages perfectly.
They began the search for rich lands where they could found a city and populate it, but they found nothing but uncooperative Indians who avoided them and a harsh and implacable nature. After three years of traveling through much of the southern part of the present United States, in April 1542 they established a camp in the province of Guachoya where they got along very well with the local cacique. But soon after Soto contracted malaria and died on May 21, delegating the captaincy to Luis de Moscoso.
Videos
I add a couple of biographical videos related to Hernando de Soto:
Images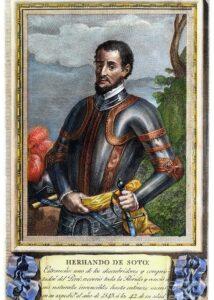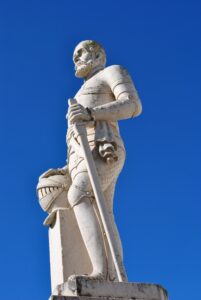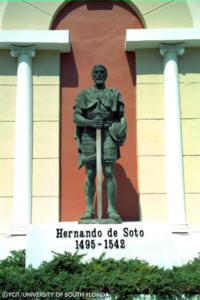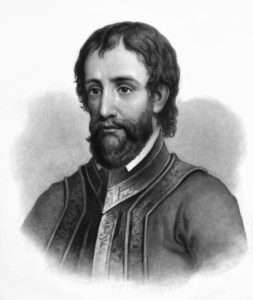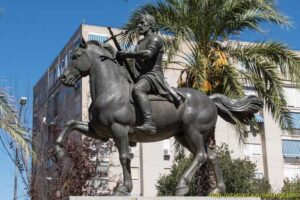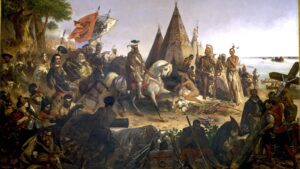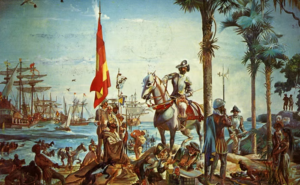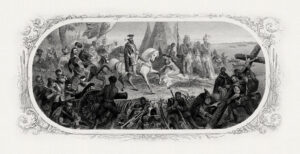 Works:
-
La Florida del Inca, Inca Garcilaso de la Vega