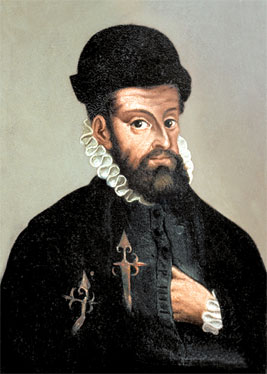 Location of birth:
Francisco Pizarro was born on March 16th,1478 in the city of Trujillo (Cáceres-Spain).
Location of death:
Francisco Pizarro died on June 26th,1541 in his house in Lima (Peru) killed by supporters of Almagro el Joven. His remains are currently in the cathedral of Lima (Peru).
Exercised charges:
– Explorator and conquistador of Central America with Alonso de Ojeda in 1510.
– Mayor of Panama in 1519.
– Governor, captain general, advanced and chief sheriff of the governorate of Nueva Castilla in 1529.
– Title of Marquis.
Most relevant facts starring Francisco Pizarro:
– Before traveling to the New World he participated in the wars of Italy.
– In 1502, he passed to the Indies in the fleet of the governor Frey Nicolás de Ovando.
– He explored Central America together with Alonso de Ojeda and participated in the expedition of Vasco Núñez de Balboa who discovered the South Sea (Pacific Ocean).
– By the capitulations of Toledo in 1529, he was appointed governor, captain general and forward of Peru.
– In 1531 part of Panama to the conquest of the peru.
– He confronted Diego de Almagro for the possession of Cuzco in the Battle of Las Salinas. It was the prelude to Peru's civil wars between the slate-makers and the Almagrists.
I add a video biography of Francisco Pizarro: