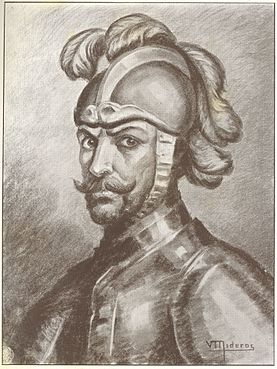 Biography of Sebastián de Belalcázar
Summary
Sebastián Moyano y Cabrera or Sebastián de Belalcázar, born in the town of Belalcázar (Córdoba-Spain) in 1490, was a Spanish military officer, conquistador, explorer, adelantado and governor in the Indies.
After settling in the Indies, it is thought that he initially resided for a few years in Santo Domingo until he decided to make the leap to the continent by going to the Darién, where he made contact with Pedrarias Dávila, the governor of Castilla del Oro, and with Francisco Pizarro, at that time just another captain. Belalcázar began his military career in this region, participating in the conquest of Nicaragua with Francisco Hernández de Córdoba, where he won an encomienda of Indians. Pizarro called him from Peru and after selling all his goods he organised an expedition to join him in Peru. Here he was present in Cajamarca during the confrontation with Atahualpa and his armies and then marched north to conquer the kingdom of Quito, defeating the Inca generals who had not yet been subdued. This paved the way for him to the north, towards present-day Colombia, where he founded numerous cities and consolidated the conquest of these territories.
But the rebellions in Peru by Gonzalo Pizarro and the encomenderos, who rose up against the New Laws of the Indies, forced him to return south and join the royal armies, maintaining his loyalty to the king.
Shortly before his death in 1551 in Cartagena de Indias, he was put on trial and sentenced to death, but he asked to go before the king to defend himself and before embarking for Spain he died.
Biography
Family
Almost nothing is known of his family, except that his parents were peasants, and that in 1507, as an orphan, he ran away from home and went to the Indies in 1507, where he lived for a few years in Santo Domingo until he left for Panama in 1513.
Panamá
In Panama, he took part in several operations that earned him an encomienda of Indians in Nata. There he met Gaspar de Espinosa, Francisco Pizarro and Diego de Almagro, with whom he must have become good friends because he was the godfather of his son, Diego de Almagro el Mozo.
Nicaragua
.He was in Nicaragua with Francisco Hernández de Córdoba, participating in the foundations of León and Granada and in the exploration of the Desaguadero River in search of the Estrecho Dudoso. A few years later he was appointed alderman of León. He remained here until the death of Pedrarias, when he left for Peru at the call of Pizarro and his associates. He sold everything he had, bought two brigantines and recruited 70 men, horses and supplies, joining Pizarro's host in Puerto Viejo in 1532, who put him in charge of the cavalry.
Perú
In Peru he took part in 1532, together with Hernando de Soto, in the first contacts with the Incas and in the subsequent battle of Cajamarca, in which the Inca Atahualpa fell into the hands of the Spaniards. With the spoils obtained from this victory, Belalcázar could have retired to a happy and peaceful life, but his adventurous spirit prevailed and he continued to take part in other expeditions, such as the one that led him to the conquest of the kingdom of Quito, confronting and defeating the Inca armies of the generals Rumiñahui, Quizquiz and Zocozopagua in 1534. In this year he founded Santiago de Quito to give legitimacy to his conquest and established a town council. Around the same time he founded San Francisco de Quito on the ruins of the ancient city, destroyed and burned by the Incas before the Spanish took it, and Santiago de Guayaquil. He then continued to explore northwards, towards present-day Colombia, where he wanted to find the riches of El Dorado and the Land of Cinnamon.
Nueva Granada
In search of these romantic rumours, they entered Chibcha territory, ascending the valley of the Cauca River, where they established barracks and founded cities in 1536, such as Santiago de Cali, Asunción de Popayán and Ampudia. On the Bogotá plain they met two other Spanish conquest expeditions, that of Jiménez de Quesada arriving from Santa Marta and that of Nicolás Federmann arriving from Venezuela. The three conquistadors negotiated over their respective jurisdictions and decided to go to Spain to ask the king to decide on the matter. Benalcázar was granted the governorship of Popayán..
Pizarro's rebelion
In 1544 the Visitor Miguel Díaz de Armendariz arrived in Cartagena to impose the New Laws of the Indies, which provoked the outbreak of the encomenderos' rebellion led by Gonzalo Pizarro. The rebel asked for Belalcázar's support but the latter remained loyal to the King, so he fought on the royalist side in the battle of Añaquito, where he was wounded by an arquebus shot and taken prisoner. Pizarro spared his life and let him return to Popayán, but there he found that Armendáriz had illegally appointed Jorge de Robledo, a Spanish military officer and marshal, as governor. Belalcázar did not accept this usurpation of his office, captured Robledo and executed him.
In 1546 Pedro de la Gasca arrived with the mission of putting an end to Pizarro's rebellion. Belalcázar was again asked to remain loyal to the king and he did so, gathering an army of 300 soldiers and joining the viceroy's army that would defeat Gonzalo Pizarro in 1548 and put an end to the rebellion.
Residence trial and death
Because of his position as governor he was put on trial in Popayán on 35 charges, including having unjustly executed Marshal Robledo, mistreatment of Indians, fraudulent use of royal funds, etc. Judge Francisco Briceño condemned him to death but Sebastián appealed and was granted permission to go to Spain to present his appeal, but on the way to Cartagena de Indias he felt ill and died.
Videos
I add a couple of biographical videos of Sebastián de Belalcázar:
Related Images: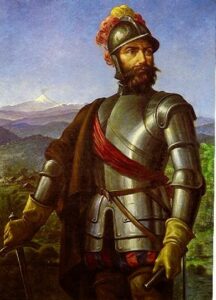 Works
Historia de Sebastián de Belalcázar escrita por su hijo Francisco
Testamento de Sebastián de Belalcázar
---
Para referenciar este artículo:
Martos, David. (03-08-2023). Biography of Sebastián de Belalcázar. Blog Historia del Nuevo Mundo. https://www.historiadelnuevomundo.com/en/biography-of-sebastian-de-belalcazar/
---