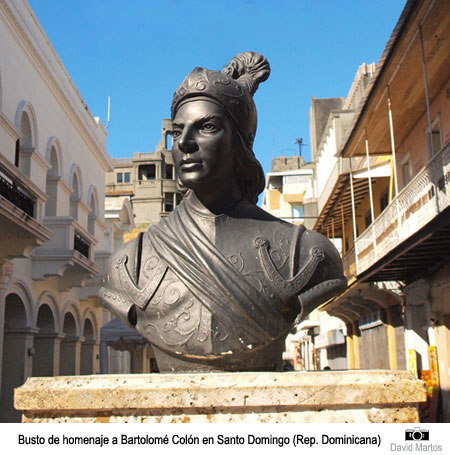 Born: 1461 in Genoa, Italy?
Death: 1514 in Santo Domingo, Dominican Republic.
Burial: San Francisco Monastery in Santo Domingo, Dominican Republic.
Charges:
– Navigator, discoverer and cartographer.
– Adelantado of the Indies and governor of Spain.
Most relevant facts:
– He toured several European courts seeking support for Christobal Columbus project.
– He battled on the Spanish island against the natives and the Spanish rebels.
– In 1498, he founded the city of Santo Domingo de Guzmán (now Santo Domingo) on the south coast of Hispaniola Island, near some gold mines that were found in the Haina river, where the entire population of La Isabela moved here.
– Arrested by Francisco de Bobadilla along with his brother and handcuffed to Spain for alleged abuses in the task of governing the island.
– He participated in the Admiral's fourth and last voyage to discover the coast of Veragua (currently the Caribbean coast of Nicaragua, Costa Rica and part of Panama).
Other data of interest:
At the end of his life he tried to obtain a papal bull for the conquest of the coast of Veragua, but it was denied him.