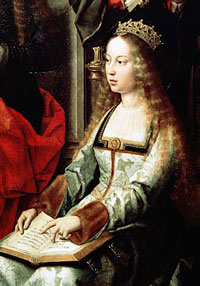 Birth: April 22,1451 in Madrigal de las Altas Torres (Ávila, Spain).
Death: November 26,1504 in Medina del Campo (Valladolid, Spain).
Charges:
– Queen of Castile from 1474 to 1504.
– Queen consort of Sicily since 1469.
– Queen consort of Aragon since 1479.
Most Relevant Facts:
– 18 September 1468 is proclaimed Princess of Asturias.
– 19 October 1469 married Fernando de Aragón, becoming queen consort of Sicily and Aragon.
– 13 December 1474, after defeating her niece Juana in the war of the Castilian Succession, she proclaimed herself Queen of Castile in Segovia.
– In 1480 he established the Holy Inquisition in all its territories.
– In 1492 conquers the kingdom of Granada, unifying all the peninsular kingdoms except Portugal and Navarre under his command.
– In the same year, support Christopher Columbus in his plans to reach the Indies through the West.
Other interesting data:
– A woman of great character and deep religiousness, she lived in a sober and austere way, fleeing from the luxuries that her position guaranteed her.
– He drove Jews off the peninsula and later forced Muslims to convert to Catholicism if they wanted to stay in Spain.
– She was a great defender of the American Indians, qualifying them as subjects of the crown and as such assigning them the same rights as the others.
A biographical video about Isabel I of Castile: