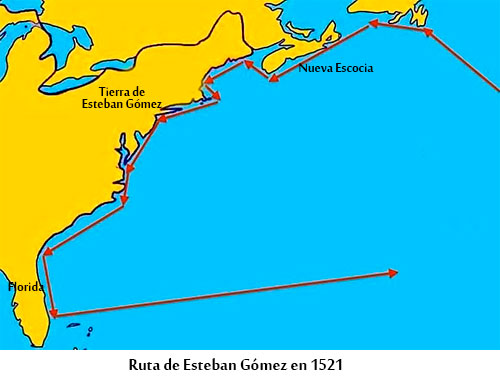 Esteban Gómez, Portuguese navigator, was born in 1483 in Oporto (Portugal). In 1518 he was appointed pilot of Seville Contracting House, thus passing to serve the Spanish crown. He participated as a pilot of the nao Trinidad ('capitana' ship) in the journey of Fernando de Magallanes with the objective of circumnavigating the globe. But Gomez deserted when he arrived at Magellan Stretch for differences with Captain Alvaro de Mezquita whom he asked to return to Castilla for the reduced provisions they carried to complete the trip to the Moluccas. In response to his refusal to continue the journey, they rose and returned to Seville where he reported the discovery of the strait, the continuity of the expedition but was not spared punishment and was arrested and imprisoned. He was not released until the nao Victoria, the only survivor of the voyage around the world, arrived in the Sevillian city under the command of Juan Sebastián el Cano and this one narrated the horrors of the voyage.
After this and seeing the difficulty of the trip to Asia through the Strait of Magellan, he proposed to the emperor Carlos the organization of an expedition to find the passage towards the islands of the Spices to the northwest. The capitulation was granted on March 27th, 1523, providing him with a 50-tonne caravel, called Nuestra Señora de la Anunciada departing in September 1524 from La Coruña with 29 men.
They crossed the Atlantic and arrived at North America in February 1525 specifically to the Cabot strait and Cape Breton Island (now Nova Scotia) where they set up camp to wait for the winter to pass. Seeing the conditions of navigation towards the north, they decided to look for the passage to the west in a southward direction, where they assumed that the weather would be less adverse. They sailed all along the east coast, entering the Penobscot River and the port of New York as well as the Hudson River which he baptized as San Antonio River until to it reached Florida in August 1525.
He named the whole area as the "Land of Esteban Gómez", the first navigator to cover it from north to south and in all its extension. In this way, the exploration of the entire North American east coast, from Hudson Bay to the Grande River in the Gulf of Mexico, was closed thanks to the expeditions of Ponce de León, Francisco de Garay, Lucas Vázquez de Ayllón and Esteban Gómez. A real feat accomplished in very few years.
Index of the conquest and colonization of North America
-
Spanish conquest and colonization of North America.
-
Ponce de león and the Discovery of de Florida.
-
Francisco de Garay, Expeditions along the Gulf of Mexico Coast.
-
Lucas Vázquez de Ayllón, Foundation of the First Spanish Settlement in North America.
-
Esteban Gómez, exploration of the entire east coast.
-
Pánfilo de Narváez and Cabeza de Vaca, exploration of the Southern United States
-
Nuño de Guzmán, conquistador of Nueva Galicia
-
The Viceroy Mendoza and the Seven Cities of Cibola
-
Hernando de Soto, the great American marathon
-
Francisco Vázquez de Coronado, Arizona y Nuevo México, Texas, Kansas and Oklahoma
-
Juan Rodríguez Cabrillo and the discovery of California
-
Menéndez de Avilés found San Agustín of the Florida
-
Juan de Oñate, the conquest of New Mexico
-
The peaceful conquest
-
The conquest of Texas, the Missions
-
The conquest of California
-
Los Caminos Reales Españoles
-
The Spanish Alaska
-
The Spanish Louisiana
-
The loss of North America