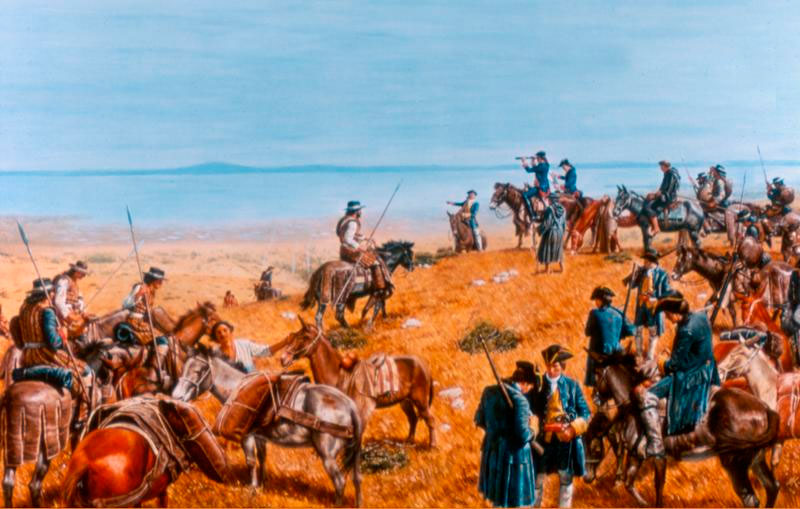 The first colony founded by Spaniards in Californian territory was a small settlement near the present La Paz (Baja California – Mexico) by an expedition sent by Hernán Cortés in 1533 and captained by Fortún Jiménez. They thought the California was an island. Like most of this type of first settlements, they had a fleeting existence. Normally, because of the bad situation, not having access to water, food or the collaboration of the natives made them unfeasible. In 1536 it was abandoned.
In 1539 Cortés sent a new expedition, this time captained by Francisco de Ulloa that reached the bottom of the Californian bay, discovered the mouth of the Colorado River and having to return southwards he discovered that the island of California did not really exist but was a peninsula that reached the cape of San Lucas where they could already continue sailing northwards in search of the Strait of Anian, a place whose existence had not been proven and which supposedly connected the Pacific Ocean with the Atlantic Ocean but from the north.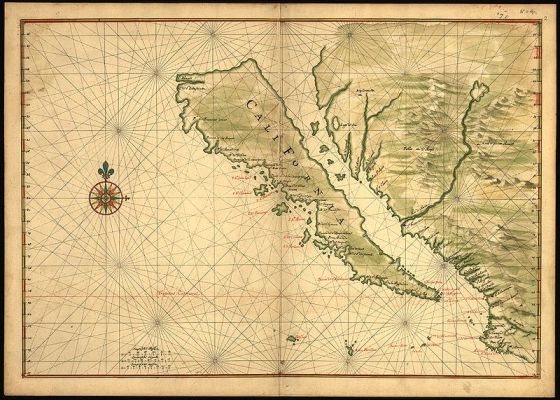 The next major expedition that has already arrived to Alta California was the Juan Rodríguez Cabrillo in 1542 organized in principle by Pedro de Alvarado but that upon his sudden death in Nueva Galicia was resume. But after these expeditions, the Californian lands ceased to be of great interest to the Spanish authorities. No major civilization and no immediate riches had been seen. Just the virrey Monterrey did not give up and believed that there must have been something there and ordered the captain Cermeño to sail those distant coasts in search of wealth and possible rival ships; recently there were several incidents with British corsairs and this began to worry a lot, they was also looking for a suitable place to serve as a resting place for the Manila galleon on its return to Acapulco.
In 1602, a new expedition was commissioned to Captain Sebastian Vizcaíno sailing from Acapulco with four ships that in November of that year landed in and named the San Diego Bay and little later to the one of Monterrey, named in honour of the Viceroy. This expedition was supposed to have been a success as soon as they travelled along the Californian coast and gathered important geographic and flora information, but neither strong nor stable settlements were created, that is to say, it was "to take a walk around", so it can be said that they were not very successful.
For decades, California was forgotten and hardly considered. It wasn't until the religious appeared in those places with evangelizing purposes that they were able to create small urban nuclei and could speak of a colonization of California. From the north of Viceroyalty of Nueva España the religious of the Jesuits had already built many missions in the regions of Sinaloa, Durango, Chihuahua and Sonora. In 1684, the father Kino founded the mission of Nuestra Señora del Loreto in Lower California but had to be abandoned for lack of water and food. Years later other religious founded a new mission near the Loreto that became the capital of California for many years, mainly because there was nowhere else to lodge the governor.
This was the province of California until in 1767 came the order of expulsion of the Jesuits from the Spanish territories. They were replaced by the religious of the Franciscan order who quickly set to work and under the direction of Fray Junípero Serra they began to recover the 14 missions left by the Jesuits and to create new ones to the north with the intention of evangelizing the territories in which it had not yet been possible to establish themselves.
These events gave some impetus to the colonization of California, but it was only when news reached the Spanish court of a possible expansion of the Russian empire from the north with the consequent threat of losing these territories to such a fragile legal status without well-defined borders. For this purpose, the king commissioned Viceroy Croix and Visitor José de Gálvez to organize an expedition to resolve these issues.
Gaspar de Portolá, Regimientos de Dragones de España captain, then governor of the province, was commissioned to put it into operation. This expedition departed from San Blas port on January 11th, 1769 and its mission was to travel by sea and land to reach Monterrey and build a presidio or fort stable and well equipped to monitor and if necessary stop the Russian expansion along the peaceful coasts. This objective was achieved on June 4th, 1770 after many problems along the way with illnesses and shortages. In a few weeks, Monterrey had a 100-meter-long and wide main square, a chapel, stables, warehouse, rooms and a powder keg. There Portolá left Captain Pedro Fages who would soon become the military governor of New California.
Index of the conquest and colonization of North America
-
Spanish conquest and colonization of North America.
-
Ponce de león and the Discovery of de Florida.
-
Francisco de Garay, Expeditions along the Gulf of Mexico Coast.
-
Lucas Vázquez de Ayllón, Foundation of the First Spanish Settlement in North America.
-
Esteban Gómez, exploration of the entire east coast.
-
Pánfilo de Narváez and Cabeza de Vaca, exploration of the Southern United States
-
Nuño de Guzmán, conquistador of Nueva Galicia
-
The Viceroy Mendoza and the Seven Cities of Cibola
-
Hernando de Soto, the great American marathon
-
Francisco Vázquez de Coronado, Arizona y Nuevo México, Texas, Kansas and Oklahoma
-
Juan Rodríguez Cabrillo and the discovery of California
-
Menéndez de Avilés found San Agustín of the Florida
-
Juan de Oñate, the conquest of New Mexico
-
The peaceful conquest
-
The conquest of Texas, the Missions
-
The conquest of California
-
Los Caminos Reales Españoles
-
The Spanish Alaska
-
The Spanish Louisiana
-
The loss of North America