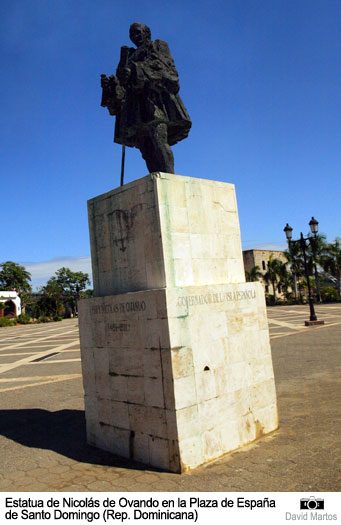 Nacimiento: Brozas (Cáceres  – Spain) 1460.
Death: 29 May 1511 in Seville.
Burial: St. Benedict of Alcantara Church (Cáceres – Spain)
Charges:
– Prince John's preceptor until his death in 1497.
– Major Commander of the Orden of Alcantara in 1494.
– Governor of the Hispaniola Government from 1502 to 1509.
Most relevant facts:
– He founded the city of Santo Domingo in 1502 after being destroyed by a hurricane.
– Reorganized the Spanish administration for a more efficient management of taxes.
– Pacified the Hispaniola Island defeated the rebel chieftains. For these military actions he has been accused of excessive severity, especially for the execution of Anacaona and several taínos caciques.
– He developed agriculture with the introduction of sugar cane and livestock farming with the importation from Spain of pigs, cattle, horses and mules.
– He founded numerous villas all over Spain: Compostela de Azua, Santa Marí­a de la Vera Paz, Bayajá, Salvatierra de la Sabana, Salvaleón de Higüey, Cotuí­, Puerto Plata, Santa Cruz de Hicay.
– He promoted and organized the expeditions of Ponce de León to Puerto Rico and Sebastian de Ocampo to Cuba.
– It boosted the arrival of African slaves to be used as labour, since the use of Indians as slaves was expressly forbidden by the crown.
Other data of interest:
– As a summary of his performance on the Hispaniola island, it is easy to say that in 1502 he arrived at a place in complete social, political and military chaos and when he returned to Spain in 1509 he left it peaceful, with a new and efficient administration based on the Castilian model and a prosperous economy.