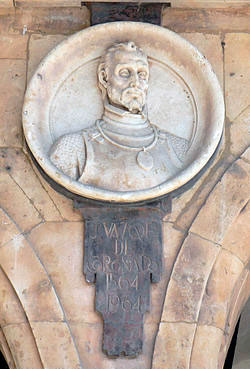 Francisco Vázquez de Coronado, born in Salamanca (Spain) in 1510. He arrived in Nueva España in 1535 and quickly became a trusted person of Viceroy Antonio de Mendoza. In 1538, he was appointed Governor of Nueva Galicia replacing the former, accused and convicted of mistreating the natives.
As we told in the article about Viceroy Mendoza and Friar Marcos de Niza, this invented that during the reconnaissance expedition he had seen a great rich and splendid city. On his return to Mexico he told this story to the viceroy, and he hurriedly launched himself to organize an expedition of 300 Spaniards and 800 Indians under the command of Francisco Vázquez de Coronado. This expedition was financed by the Viceroy and Coronado himself.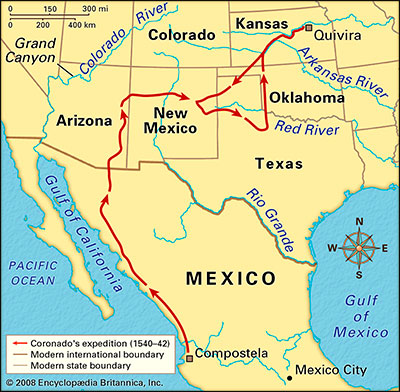 They departed on February 23th,1540 from Compostela. But this was only a part of the expedition because through the Mar de Cortés and parallel to the coast, two ships were marching under the command of don Hernando de Alarcón and Marcos Ruiz loaded with provisions and material that could need the land expedition. The idea was good, but both parts never met.
They arrived in Culiacán where they stocked up again and continued their way on April 22th 1541 but seeing that the displacement of the bulk of the expedition delayed the march they decided to form a smaller, more agile and quicker group and send it ahead to explore the unknown despite the fact that, previously Melchor Díaz, a captain sent a few months earlier to explore the land, told them that Cibola was nothing more than a group of villages made of stone and adobe and inhabited by Indians who did not know what gold was. But they ignored him and went on to Chichilticalli, the place where the desert began and where, after crossing it, they were supposed to be the riches they sought so much. They crossed it and entered through the present day Arizona and on July 7th, 1541 they arrived at Hawikuh where Cibola was supposed to be, but there were no big cities or great riches. They had been deceived.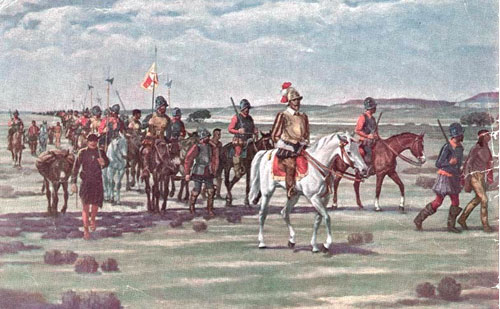 But the Spaniards of that time did not give up so easily and instead of lamenting and licking their wounds they organized several small games to explore the surroundings. Something interesting would be there. Coronado sent in Pedro de Tovar and García López de Cárdenas and 21 soldiers to the northwest. They discovered the Colorado river and the Great Canyon through which it flows. To the south he sent Melchor Díaz to warn the bulk of the expedition to go ahead and join them. This occurred in the village of Tiguex near the Bravo river where they spent the winter.
There Coronado met an Indian dubbed The Turkish who told him that traveling to the northeast was a country known as Quivira, rich and important. But it was the same as with the friar Marcos de Niza, it was all a hoax and after travelling thousands of miles they arrived in an area so called Quivira, at the height of the present Kansas, where the Wichita Indians lived, who were poor and lived in a hut with a straw roof. They returned to Tiguex with obvious frustration, but on that return journey they made a great deal of effort: huge herds of buffaloes, which they called wild cows, chased by the indigenous Querechos. At least they had already secured the meat supplies and also the possibility of a juicy trade.
Coronado dispatched from Tiguex to Captain Hernando de Alvarado on another expedition to see what was in the vicinity of that area and marched on August 29th,1541 to the King of Hacus or Acoma. A city inhabited by the queres indians that was in a natural fortress built on a platform over a hundred meters high and whose access could only be made by a few narrow and dangerous paths. It seemed like an impregnable city, but in 1599 it fell into the hands of the Spanish in one of the most skilful military actions ever undertaken. I'll tell it later. He continued to roam the area without finding more than the apaches indians chasing herds of buffaloes and chose to return to Tiguex.
Seeing that there was nothing to do, Coronado decided to suspend the expedition and return to Mexico. He returned on the same outward route in 1542 alone with 100 men and the burden of failure. He was accused of mismanagement and cruelty against the Indians but could not be convicted and continued to serve as governor of Nueva Galicia until 1544.
Index of the conquest and colonization of North America
-
Spanish conquest and colonization of North America.
-
Ponce de león and the Discovery of de Florida.
-
Francisco de Garay, Expeditions along the Gulf of Mexico Coast.
-
Lucas Vázquez de Ayllón, Foundation of the First Spanish Settlement in North America.
-
Esteban Gómez, exploration of the entire east coast.
-
Pánfilo de Narváez and Cabeza de Vaca, exploration of the Southern United States
-
Nuño de Guzmán, conquistador of Nueva Galicia
-
The Viceroy Mendoza and the Seven Cities of Cibola
-
Hernando de Soto, the great American marathon
-
Francisco Vázquez de Coronado, Arizona y Nuevo México, Texas, Kansas and Oklahoma
-
Juan Rodríguez Cabrillo and the discovery of California
-
Menéndez de Avilés found San Agustín of the Florida
-
Juan de Oñate, the conquest of New Mexico
-
The peaceful conquest
-
The conquest of Texas, the Missions
-
The conquest of California
-
Los Caminos Reales Españoles
-
The Spanish Alaska
-
The Spanish Louisiana
-
The loss of North America